Great Western 2mm N scale Signal Waterslide Transfers (decals) for
Lower Quadrant MSE etched arms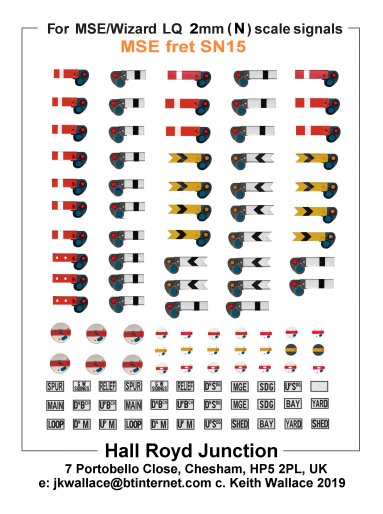 Order Now!
Office Address: Hall Royd Junction, 7 Portobello Close, Chesham, Bucks. HP5 2PL, UK.
Telephone: UK +44 (0) 1494 791624 e-mail:
keithw@hall-royd-junction.co.uk
Despatch & Postage Costs
This item will be despatched within 3 working days from receipt of payment, and postage free to UK and International addresses.
Order now whilst you are thinking how difficult it might be to mask off an effective chevron on BOTH sides of the arm! Save yourself hours of cussing and swearing!
A set of waterslide transfers to customise your brass GWR/ BR Wsetern Region signal arm etches in 2mm / N scale.
They are invaluable for anyone having difficulty creating the chevrons on distant signals. They also feature the bolts that secure the arm, and as these transfers are created from actual photos.
The brass arm needs to primed white (there is show through), and then gloss varnished (this allows the transfer to grip the surface). The transfer is then softened with a drop of water, and when loose, teased onto the arm with a cocktail stick or similar.
ONLY the front and back of the arm are featured - it is assumed the spectacle plate will be painted and glazed.
Payment via our secure shopping kart or PayPal - you can choose which you prefer once you have entered your details. Transfers will be posted as soon as I receive your payment.
What's on the sheet

The sheet contains 6 Home signals and backs, together with 6 distant signals. These are the steel arm type (not the earlier wooden arm type) with both the ribbed (1926 -1947) and folded-edge type (1948 onwards). There is a selection of the shorter subsidiary and backing signals.
In addition there is a full set of disc signals: home, distant and distant with black horizontal lines.